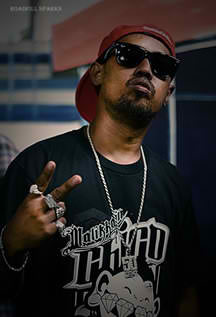 Who is Zaito? He is just one of the best emcees in fliptop battles yoww and that is the thing u should know?!lol.Zaito lives @  Las Piñas, Metro Manila , age of 37, reppin at Vigilante Family and South Radical Production, There are many people saying that he is not worthy to battle again in fliptop  because of his defeat against Loonie.Well, it is true he was defeated but one thing is for sure, he will come back with his cool lines.I've waited many months to see if Zaito was true to his words, I was surprised that he wasn't lying about it.On his battle with Silencer he showed confidence and delivered cool lines. I also found out that he had a sense of humor.In the battle, he caught the attention of the crowd. Even Anygma laughed hard when he heard his funny lines, including other people that watched the battle too. He was really funny! Aside from Dello, he is also my idol.I also like the way he raps and the way he delivers his cool lyrcs.I like his lyrics because there are no foul words included, it think its awesome compared to Batas.I like his songs, very simple yet pleasing to the ears and again no foul words included.Zaito is making his first step to the top.
Edit
pakyu
shoutout kay stephen benok omaga ha? ha? ha? ha? may problema ka? tara inom pag usapan natin yan :)
Ad blocker interference detected!
Wikia is a free-to-use site that makes money from advertising. We have a modified experience for viewers using ad blockers

Wikia is not accessible if you've made further modifications. Remove the custom ad blocker rule(s) and the page will load as expected.